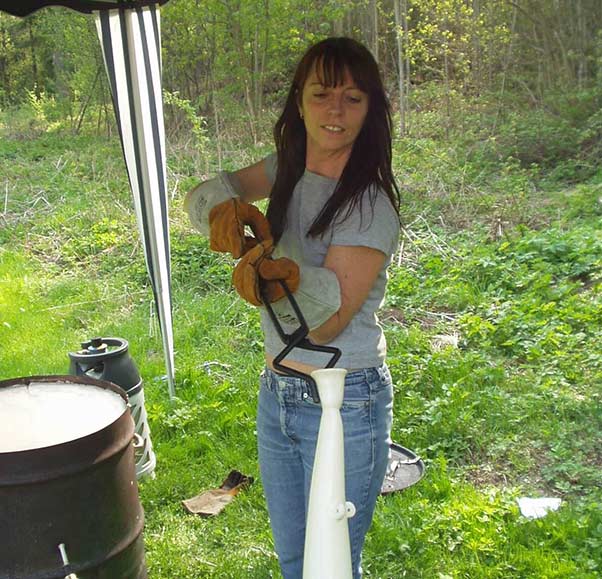 I am a ceramic artist, born in Buenos Aires, Argentina, in 1956. I'm living in Norway since 1996 after living almost 20 years in Brazil.
I began working with clay while I was in college and completed my studies as Ceramologist in the" Instituto de Ceramologia Condorhuasi" in Buenos Aires.
My studio is situated in Vollen, a beautiful place, beside the Fjord of Oslo. Vollen Handelssted it's a 143 year old trade center, with white painted wood buildings, today full of life with cafes, restaurants, galleries and studios.
"KeramikkHjørnet" is a working studio where I also teach classes and organize workshops with focus in alternative firings techniques.
The use of clay, the colors, the firing, inspires me the same way it has inspired the old cultures all over the world. Today I mainly work with Raku and Smoke Firing where the unpredictable happens.
I look upon it as a never-ending research in what is possible within limits. You are close to the 4 elements, earth, wind, fire, water, and all these elements are your co-creators. The process of making its especially important to me and I feel passionate about the use of hand-skills when using this organic material. All my ceramics objects are hand-built, mainly using the traditional process of coiling, surface patterns and colors are created through flames and smoke.
I am member of the
Norwegian Craft Association since 2010.
For Classes and Workshops inquiries, or a Studio tour…